UKSPA / Ten Alps Publishing
In partnership with the United Kingdom Science Park Association, Ten Alps produces the magazine, Innovation into Success, three times per year and the UKSPA Directory & Website. For further information on targeting the Science Parks and Research Businesses please contact Darren Brownsword on +44(0)1625 667561.
Tel:
01625 667561
Address:
Trewlawney House
Chestergate
Macclesfield
SK11 6DW
Website:
scienceparks.co.uk
Email:
Book a Meeting
If you would like to talk to a representative of UKSPA / Ten Alps Publishing at this event, you can book a meeting time here. Your request will be immediately forwarded to the team who will confirm a time with you. Meetings will usually take place on the exhibitor's Stand.


Location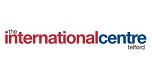 Telford Int. Conference Centre
St Quentin Gate Telford, Shropshire

Hosted By
ELRIG
The European Laboratory Research & Innovation Group Our Vision : To provide outstanding, leading edge knowledge to the life sciences community on an open access basis
Get the App