An intuitive web based admin page makes data entry easy.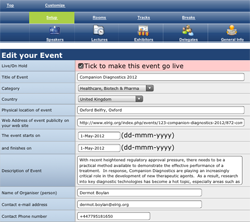 Get Started
To get going simply register for the the eventflo service and get going straight away with eventfloTOTAL

Online data entry gives you complete control
You can activate specific pages in your app, at anytime, so its possible to release an overview and registration page initially, and start generating interest whilst finalising the event schedule and lectures. When you are ready to publish your complete event content across all media from website to mobile device apps, simply turn all pages to active.
Updates and changes to your event information can be made at any time so you can contact attendees both before, during and after your event.
Charging is based on a single annual service charge to use the eventflo platform - GBP 1,995 / USD 2,995 / EUR 2,695. [ Download Pricing & Features List ]

The standard service charge includes complimentary use of our PAYPAL ticketing and registration service or you can choose to have payments sent directly to your own paypal account. If you choose to use our paypal account we will credit your chosen bank account every 30 days with any ticket sales revenue. All registrations and payments can be monitored through your own admin section

Academic 'not-for-profit' organisations qualify for a discount off these prices, enquire for info.
No limit to the number of events you can create per year.
Events can run all year so your attendees can access useful post-event information and get updates on future events.
No hidden service charges or transaction fees, just one annual charge.
You can create upto to 3 events per year within the standard service charge and each subsequent event posted will be charged at only GBP495 / USD792 / EUR644
contact our customer services team to learn about our premium services including customised own-branding of your app and implementation of our unique eventfloBADGE solution for on-demand badge printing and walk-in registration, using our state of the art, high speed badge printers and IR scanners.
We also offer an express badge printing service where you provide us with the attendees list and we will create your badges, including your graphics and even a QR code containing all attendee contact info....all within 48hrs!